Our Business
Office Environment Management
Cleaning
We work on cleaning employee cafeterias, corridors, stairways, restrooms, outer periphery, and other area of Sony Corporation's headquarters building, Sony City Osaki, and Atsugi Technology Center. Each employee uses tools and fixtures tailored individually with the guidance by the professional building cleaning technicians and job coaches who are trained to maximize the output of disables.
Reuse and Recycling of Office Supplies
We disassemble and sort used laptop PCs converting iron, nonferrous metals (copper and aluminum) etc. into valuable materials, which leads to the reduction of waste disposal cost at Atsugi Technology Center. We also manage to collect and clean up unnecessary files and stationeries so that they can be reused at Sony's offices.
Administrative Support
Mail Delivery Services
One of the businesses we have been doing since our establishment. We deliver and collect mails arriving from both outside and inside Sony Group to each department on the sites, using wagons. This is the task that requires punctuality and certainty.
Printing, Document Management, Reception Desks
We work on various tasks including textbook printing for technical / business training curriculums, business card printing, piling accounting slips in numerical order, digitization of contracts, operating reception desks for employees such as lending equipment and lost-and-found management, issuing/sending administrative documents to employees on leave, retirement, reinstatement. These tasks require higher skills as the valuation increase; for example, in the case of mail send out services, the portion of customized documents has been increased from just simply sending the same item in a large quantity.
IT/Video
We utilize AV / IT tools for digital archiving of video footage and paper media, data input and processing, quality assurance of Web contents, "transcription" of transcribing manuscripts while listening to sound sources, and creation of Training Data for AI engine development with image annotation.
Employee Support System
From Hiring to a Stable Employment
A desire to work stably with encouraging working environment over a long period of time is a wish anyone has, regardless of individuals with or without disabilities. Sony Kibou/Hikari hopes to be the ideal workplace. In order to maximize employees' motivation and stable employment, Sony Kibou/Hikari supports employees together with "support organization for disabilities" and parents/protectors, aiming to give careful support including daily personal matters.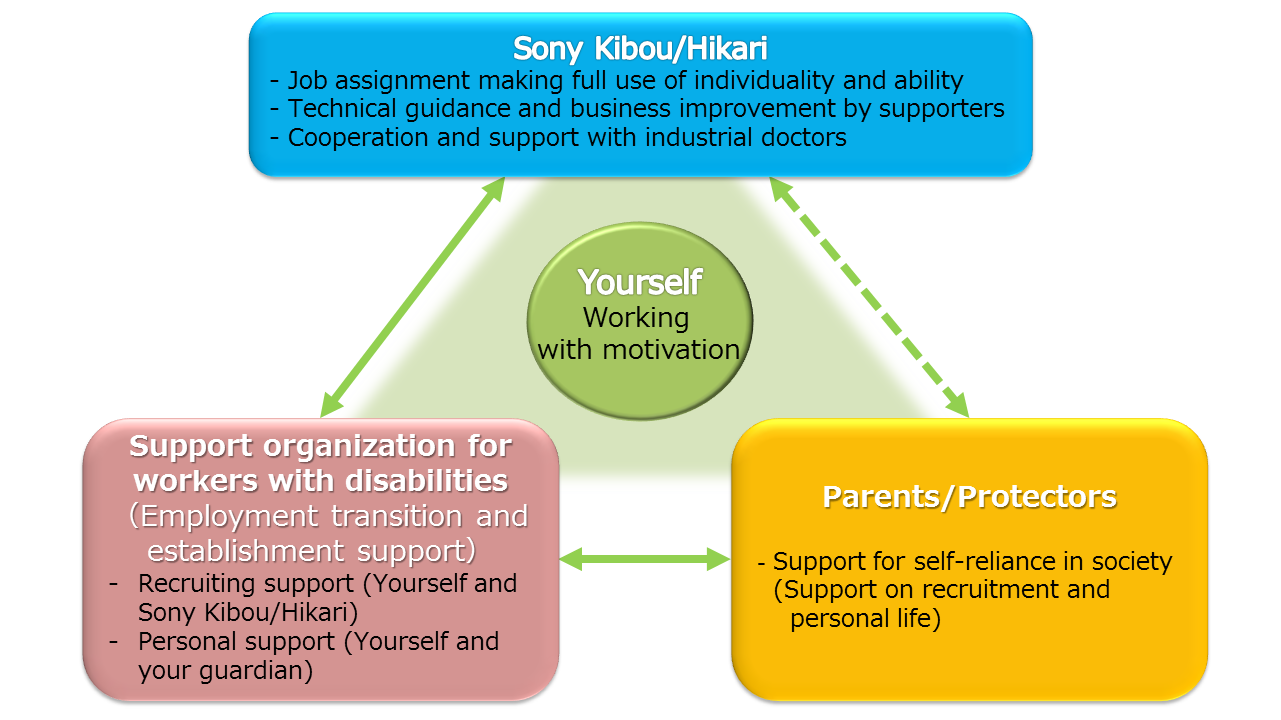 Four Support for Self-Reliance
It is our mission ever since the establishment to support each employee with disabilities who are willing to work becoming "self-reliance" in the working environment. To realize, there are "supporters" for each employee. Supporters carry out four types of support, "motivation", "training", "communication", and "work" through communication (direct dialogue) with individuals so that each one can complete their work by themselves.
Pillars of support
We give a careful accommodation on both hardware and software through communication (direct dialogue), aiming at the state where the individuals with disabilities themselves can complete their work independently. When one faces a challenge, a supporter will make an appropriate "advice".
Direction our support system aims for
"Create workplaces that do not offer charity, but rather create an environment that makes it possible for individuals with disabilities to manufacture products that exceed those manufactured by individuals without disabilities."