Philosophy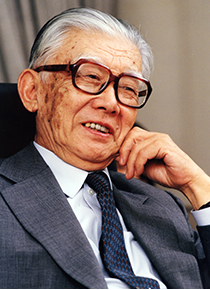 Masaru Ibuka
a Founder of Sony Group
"Create workplaces that do not offer charity, but rather create an environment that makes it possible for individuals with disabilities to manufacture products that exceed those manufactured by individuals without disabilities."
This is the message from Mr. Ibuka, Sony Group's founder, encouraging individuals with disabilities to work as hard as those without disabilities. In the background, there was a strong belief of Ibuka, as an engineer, who poured his soul into "education to make humanity" and "human development" while establishing Sony.
This Ibuka's philosophy has been carried out into the current Sony's various diversity, equity, and inclusion activities including employment of individuals with disabilities.
Top Message
Since establishing Kibou Industry in 1982 and Sony Hikari in 2002, Sony Kibou/Hikari Corporation continues to foster a work environment that promotes employees' growth as individuals by providing ample opportunities for challenges.
<To Be>
Sony Kibou/Hikari, as a member of Sony Group, will continue to enrich the minds of all people we connect with by developing ourselves to evolve as a professional and reliable team respecting the value of diversity in individuals.
This is the "hope to be" phrase that all employees at Sony Kibou/Hikari put together. Each one of us gave a careful consideration and repeated discussions with each other what it would mean to work at Sony Kibou/Hikari and what our goals would be. The message shows our commitment to keep on providing a better performance and growing as a professional team with high credibility as we have done since its establishment. We believe that our continued challenges for new opportunities such as office environment management including cleaning and recycling, administrative support including textbook printing for HR training, business card printing, HR/Accounting documentation, and administration of nursery school application, data input and processing, digital archiving of video footage and paper media, have led us to expand our fields and to demonstrate our capabilities.
Sony's Purpose is "Fill the world with emotion, through the power of creativity and technology." Sony Kibou/Hikari strives to get closer to people and to enrich and delight the minds of all people we transact with. Respecting the diversity in individuals, we will continue our challenge to provide a brighter future filled with smiles to Sony Group companies and to the community beyond.
Kaoru Ohba
President Representative Director
Corporate Information
Sony Kibou/Hikari Corporation (Former Sony Hikari Corporation)
Established in April, 2002
* Sony Hikari Corporation merged Sony Kibou Corporation (Former Kibou Industry Corporation established in Nov., 1981) and changed its company name to Sony Kibou/Hikari in Jan., 2015.
Location

Headquarter: 1-7-1 Konan Minato-ku, Tokyo 108-0075 Japan
MAP (Headquarters)
Sites: Osaki, Shinagawa, Tokyo
MAP (Sony City Osaki)
Yokohama, Kanagawa
MAP (Sony City Minato Mirai)
Atsugi, Kanagawa
MAP (Atsugi Technology Center)

Representative

Kaoru Ohba, President Representative Director

Capital

10 Million yen

Capital structure

Sony Group Corporation (100%)



Headcount

169 employees (including 126 employees with disabilities) as of April 1, 2022

Business Overview

Established originally to provide a workplace for individuals with disabilities as a "special subsidiary company" of Sony Group Corporation

Key Business Categories
Office environment management: cleaning, reuse and recycling of office supplies
Administrative Support: general affairs counter, textbook printing for HR training, business card printing, HR/Accounting documentation and deliver and collect mails arriving from both outside and inside Sony Group
IT/Video: digital archiving of video footage and paper media, data input and processing, quality assurance of Web contents, transcriptions of speeches, and image annotation

Tel

+81 (0)50 3809 2307
History
1973

Social welfare organization "Kibou no ie" established in Kanuma, Tochigi (Feb.)

1981

Kibou Industry Corporation established in Kanuma, Tochigi (Nov.)
Kibou no ie started to manufacture speaker systems for Sony

1995

Emperor and Empress visited Kibou Industry (Oct.)
2002

Sony Hikari Corporation established in Shinagawa, Tokyo (Apr.)
Sony Hikari started cleaning and mail delivery services
Sony Hikari granted a certification as a "specialized subsidiary company" of Sony Corporation


2003

Kibou Industry changed its company name to Sony Kibou Corporation
Sony Kibou granted a certification as a "specialized subsidiary company" of Sony Corporation


2004

Sony Kibou started cleaning, field management, and industrial waste disposal services
Sony Hikari started logistics services

2007

Sony Kibou started mail delivery services

2008

Sony Hikari started business card printing services

2009

Sony Hikari started HR training textbook printing services

2012

Sony Hikari started the operation of a reception desk for employees (lending equipment and lost-and-found management)

2013

Sony Hikari started stationary reuse services

2014

Sony Hikari received the Disability Matters Award (Asia Pacific Region) in 2014
2015

Sony Hikari merged Sony Kibou, and changed its company name to

Sony Kibou/Hikari Corporation



Started documentation services for the Accounting Department

2017

Started documentation and mailing services for the HR Department

2018

Started to handle Sony Group's nursery school applications

2019

Recognized as "Tokyo Barrier-free Mindsets Support Corporation"

Started to digitize Sony Corporate Communications' video archives

Received "Employment of People with Disabilities Excellent Company Award" from Industrial and Labor Director of Tokyo Metropolitan Government

Received the Gold Rating in the "PRIDE Index 2019", Evaluation of companies' efforts toward LGBTQ and others. (Oct.)

Started transcriptions of speeches
2020

Received the Gold Rating in the "PRIDE Index 2020", Evaluation of companies' efforts toward LGBTQ and others. (Nov.)

Started image annotations and production of braille business cards

2021

Received the Gold Rating in the "PRIDE Index 2021", Evaluation of companies' efforts toward LGBTQ and others. (Nov.)